Get Your Head in the Game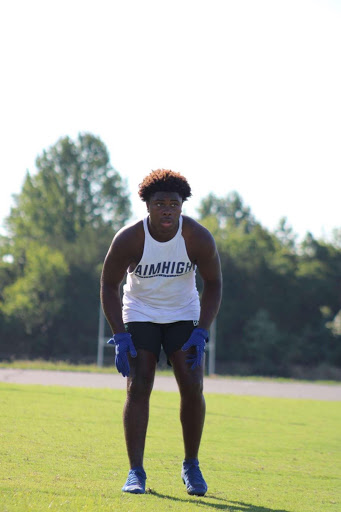 While the Coronavirus pandemic drags on, our Riverbend athletes have continued to put in hard work to train and condition while in quarantine. Riverbend pole vaulter, Danny Martino, has been practicing his technique at home while social distancing. "Last season I was able to achieve a PR (personal record) of thirteen feet," said Martino. "I hope I'll be able to start competing again this spring and reach a higher PR." Many other athletes have used these past six months to perfect their skills for the upcoming season.
Coronavirus has also affected athletes because of the way they workout and practice. Some of the athletes hadn't been able to workout or practice when the Pandemic started. According to football player Zacc Fricchone, the players have put together a 7 vs. 7 tournament where 7 Riverbend football players go against other schools in a one hand touch tournament. Zacc said that those have had an impact in him staying in "football-ready" shape. Players have had to work very hard to stay in shape during the pandemic. Now that football workouts, as well as other sports workouts are finally starting back up, the players will not have to practice and workout on their own. Getting practices back is a step toward getting the seasons started.
Although the Coronavirus has had a negative impact on most athletes, it also gave them time to train harder physically and mentally. For example, basketball player Jalen Suber was able to practice and gain flexibility in hopes for the upcoming season. "My coach told me that I needed to be more flexible and I needed to get into yoga. I've been able to train by playing on the hoop at my house and occasionally going to basketball courts with others." Contrary to that, senior athletes have also faced difficulties due to being a senior during these troubling times with no guarantee that they're going to be playing their sport. "Everything's unpredictable so you don't really know what's going to happen. I'm hoping to get a senior year because that's when colleges look at you, so this would be a good opportunity for more schools to look at me."
For most athletes, their days consist of going to practice and training. Athletes' entire thought process and lifestyle revolves around their sport. When quarantine hit athletes had to adapt to our new lifestyle which was a hard transition. The gyms were closed, there could only be groups of ten at a time, and keeping in touch with coaches and teammates. However, athletes found a way to still train and stay in shape in hopes of quarantine ending in the near future.
Leave a Comment