Learning to Drive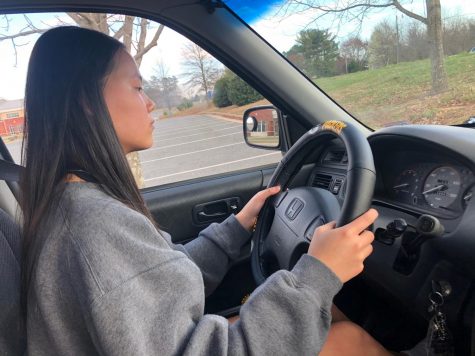 Many teens learn to drive in their sophomore year of high school and it's a fun new experience for them. Learning to drive takes a lot of time and practice because drivers must be prepared for any and all situations that they might face on the roads. Nevertheless, it's an exciting new freedom that many teens look forward to.
Sophomores Olivia Gay and Sarah Brooks got their learner's permits over the summer and they both really enjoy driving. "I like driving because it gives me a sense of freedom and it's just fun to drive," Brooks says. Gay says she likes that she's learning how to drive by herself and will soon have that freedom once she gets her license.
Learning to drive takes time and requires lots of practice. It's critical for new drivers to get out and drive as much as possible to gain experience in new situations. Gay says she practices her driving by "driving to and from my practices and other events." Brooks practices driving on new roads including highways and back roads to prepare for future situations. No matter how you practice, the more you drive, the more prepared you'll be for when you get your license.
Learning to drive doesn't come without struggles. Many skills are hard for people to learn when they begin driving. One thing Brooks struggled to learn was how to look for an open window to make a safe turn. "Don't second guess yourself because once you do, you've lost your chance to make the turn safely," Brooks stated. One thing that Gay struggled with was learning how and when to merge based on the speed and location of other vehicles. 
Learning to drive is a big milestone in many peoples' lives. It's an exciting new experience that gives many teens a new freedom. New drivers must practice a lot to gain experience before getting their license, but in the end, the practice is worth it.
Leave a Comment