Get Out There and Volunteer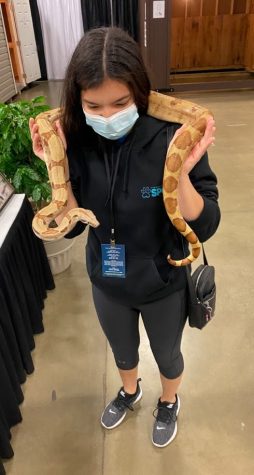 Volunteering has been a major part of many student's lives here at Riverbend and all around the world. By volunteering at a young age, you get to give back to your community, learn valuable life skills, and meet new people in the process. This selfless task benefits everyone and is an important part of giving back to your community. 
One student who values the importance of volunteering is Sofia Barbieri, a senior at Riverbend. "I've learned the value of giving back, especially from my volunteer work at the local food bank," Barbieri stated. In addition to volunteering for the local food bank, Barbieri volunteers with the Environmental club on a regular basis. "Recently, we picked up trash in Old Mill Park and along the Rappahannock river to create a better environment for local wildlife and make our parks cleaner for our community." Her continued participation in volunteering around the community, despite the pandemic, is very admirable and is an example of why volunteering is important. 
There are so many ways to help out around the community that students have found. Lisa Vanwey, senior, explains "I am proud of myself for continuing to contribute at the SPCA during Covid and for being a part of a community that cares about giving back." Vanwey is passionate about the human aspect of volunteering, which is somewhat hindered when you cannot be closer than 6 feet to someone when adhering to social distancing guidelines. However, she looks forward to going back to normal life, while still appreciating the importance of social distancing and wearing a mask while around people. Vanwey continues, "Volunteering can be hard work but it can also be really fun, and can leave you feeling fulfilled and having a sense of pride once you are all done." 
We can always do more to help those in need. Whether that means helping out at your local food bank or volunteering at the SPCA or even going out with
the Environmental club to pick up trash by the road: Any way that you can, you should try to give back. Student-led volunteerism is one of the biggest things we can do to help as we prepare to go out into the world, and help in different ways.
Leave a Comment