Play from the Heart
Volleyball is an important part of the lives of sophomores Brady Plucker and Jaden Bennett. After participating in a volleyball unit in elementary school, Bennett immediately knew she wanted to continue the sport. She played on her first club team in sixth grade and fell in love with the sport. "By 7th grade I decided that volleyball made me happiest and wanted to play more competitively," Bennett states. Plucker watched his sister play volleyball and knew that it was something he wanted to do and has been playing on a travel team for about two years now. 
Volleyball is very much a team sport which means that individual mistakes can affect everyone on the team. "If I make one error that costs my team the point, I need to sharpen up for the next [play] and get back the point," Bennett explains. By making little mistakes like getting in your head during a game, players also affect everyone else on the team. "It's a team effort so I have to leave it behind and keep playing," Plucker says. The team aspect of volleyball also helps build friendships off the court. "In the past few years I have made so many friendships with amazing girls and coaches who I know will support me in anything," Bennett says.
Like many other sports, volleyball also comes with its challenges. For Bennett and Plucker, the biggest challenge is the mental side of the game. "There is constant pressure on me to get a perfect pass and if I don't meet that high standard, I could be pulled out of the game," Bennett states. Being in the right headspace for a game is critical and can affect everything that a player does on the court. Many players have a hard time staying out of their own heads. "I think the biggest challenge I have faced is myself," Plucker explains, "No matter how hard I play, I will always focus on the one bad thing I did that game." 
Most people find that their extracurricular activities impact their lives in more ways than one, and Bennett and Plucker are no different. "I have learned to self discipline and hold myself accountable for my mistakes," Bennett states. The team aspect of volleyball has also helped Bennett build relationships with others through the sport. She has learned how to be a team player and how to trust others on and off the court. Plucker has learned new leadership skills and gained confidence while playing volleyball. "I used to be really quiet and reserved but now that I play volleyball and have a [leadership role], I have learned to not only speak up, but to not be afraid to tell people what I think.".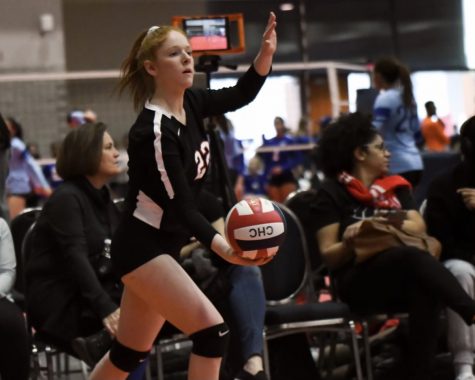 When reflecting on their time playing volleyball, Bennett and Plucker have learned their favorite parts about playing the sport. Plucker's favorite thing about playing is advancing his skills. "Volleyball is a sport where you will never know everything there is to know. There will always be something you haven't learned or mastered," Plucker states. For Bennett, the best part about volleyball is the feeling of anticipation she gets when she's on the court. "I never know what the next play will be so I always have to be on my toes and ready."
Leave a Comment