Reach for the Sky
Sophomores Samantha Potts and Camille Trotta pole vault for the Riverbend Track Team. Trotta started pole vaulting during the summer before her freshman year of high school because she thought it looked fun and interesting. "I had also just retired from gymnastics a few months before, so I wanted to try something new," Trotta states. Potts also started pole vaulting around the same time. "I started it so that my parents would stop asking me to try it. Then I went to one practice and ended up liking it," Potts says.
Trotta enjoys the little accomplishments from pole vaulting. "My favorite thing about pole vault is the amazing feeling you get when you finally clear a height that you have been working on for so long," she explains. For Potts, the best thing about pole vaulting is the feeling after the vault. "My favorite thing is that feeling when I am on my way back down to the mat and I know I've just cleared the bar," Potts explains. Pole vault takes a lot of strength and a lot of technique so when you clear the bar at any height, it's an accomplishment.
Pole vault has opened up new opportunities for Trotta in the future, including new college options, and meeting new people. Like many other team sports, pole vault has introduced Trotta to many new people. "I have a very close knit group of friends that I practice with," Trotta says. 
At the end of the winter track season, Potts pole vaulted 10 feet, earning herself the school record. "Right before I started my run, I thought to myself, 'you can and will clear this right now', and then I did!" Potts states. Her 10 foot jump not only broke the school record, but scored her second place at the regional meet and a spot at the winter state meet. "I was so ecstatic when I cleared the bar that broke the record," Potts says, and now she will advance to the state meet. 
Pole vault is a sport that takes lots of strength, technique, and dedication. Potts and Trotta have practiced long and hard to get to the level that they're at now, and we can't wait to see what they have in store in the future.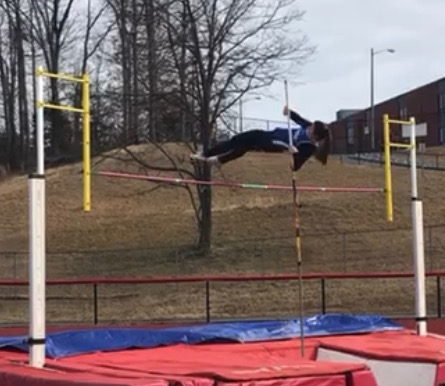 Leave a Comment