Virginia Plans to Legalize Marijuana by 2024: Op Ed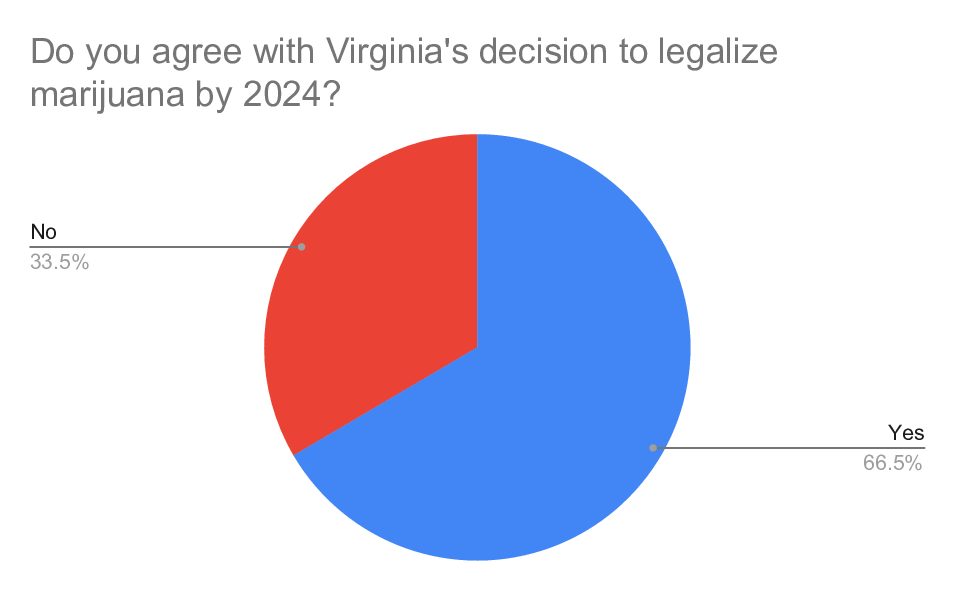 Marijuana has long been the subject of criticism by both sides of the political aisle, but with a groundbreaking vote on this issue in Virginia, legalization is in sight.
Virginia would become the first southern state to legalize weed, and would set a precedent for future legalization in other states. 
According to the bill responsible, the sales and possession of this new commodity would not take effect until 2024. "States from Wisconsin to Kansas — many cash-strapped amid the Covid pandemic — are calling for similar measures as they struggle to balance their budgets"(Mendez, Virginia…close to legalizing recreational weed as other states eye cannabis tax windfalls). As it stands, the use of adult recreational use will be legalized in Virginia and join 15 other states and the District of Columbia who have already done the same. 
Although this topic is a very controversial issue nowadays, according to a 2019 Gallup poll taken, an overwhelming 68% of US adults are in favor of the legalization of weed. In fact, when Gallup started to poll Americans about this topic, only a dismal 12% backed the idea in 1969. 
Here at Riverbend, we took a poll of 252 Riverbend students asking, "Do you agree with Virginia's plan to legalize marijuana scheduled to take effect by 2024?" Our data suggests that 66.5% of Riverbend students support legalization, shockingly less than anticipated due to the overall trend of growing support from younger generations.
Despite continued scrutiny of the moral and legal dilemmas marijuana legalization prompts, more and more states join in on this money making venture. Virginia's decision to legalize weed by 2024 leaves us waiting to find out if this was a complete waste of time or a momentous vote.
Leave a Comment