Holiday Traditions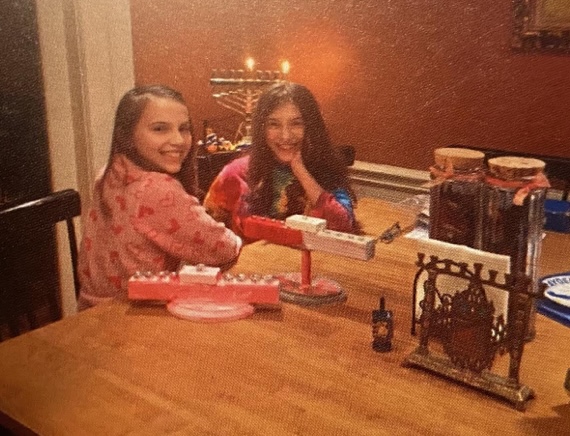 With the holidays right around the corner, many people are excited to get back into the holiday spirit by participating in long-held traditions. Many people have holiday traditions with their families or friends, including eating special foods, playing games, spending time with siblings, watching movies, and more. 
Sophomores Brooke and Ivy Seligman celebrate Hanukkah, the Jewish festival of lights.  During the celebration of Hanukkah, participants celebrate the eight days of Hanukkah and receive one present each day. "We have a Hanukkah box to put all of our presents in for all eight nights," Brooke explains. The Seligmans also play games and eat fun holiday treats during their celebration. "We play Dreidel which is a game where you win chocolate coins called 'gelt'. We also eat Latkes which are like hash browns," Ivy says. The celebration of Hanukkah brings the Jewish community together and is a very special celebration for the Seglimans. "It's always special to say the Hebrew prayers and I feel so proud to be Jewish," Brooke states.
Sophomore Riley Keohane celebrates Christmas and every year on Christmas Eve, she and her three sisters have a sleepover together to get ready for Christmas Day. "We bake cookies, drink hot chocolate, and watch every Christmas 'Full House' episode," Keohane explains. Keohane enjoys having the sleepover in her bedroom because she gets to decorate her room extra special for her sisters. Their tradition started to keep Keohane's younger siblings from sneaking downstairs to look at the presents before Christmas morning, but has turned into a special night of bonding between her and her siblings. "I wouldn't trade the experience for the world because it's a night full of happy memories for all of us," Keohane says.
Sophomore Abbey Ramsey spends as much time with her family around the holidays as possible. Every year on Christmas Eve, Ramsey and her family put cookies that they made together out on a special plate and then spend time together before going to sleep. "We all get into our matching pajamas and my dad reads 'The Night Before Christmas'," Ramsey states. On Christmas morning, the Ramsey's read about the birth of Jesus and pray before opening their gifts. "We all open our stockings first, then our presents," Ramsey says. After they open their presents, they enjoy a special Christmas breakfast together that usually consists of cinnamon rolls or coffee cake. 
People celebrate holidays in all different ways and everyone has unique traditions that they participate in. No matter what holiday people celebrate, joyous traditions allow people to spend time with their family and friends, and get into the holiday spirit.
Leave a Comment