Major Elections in Spotsylvania County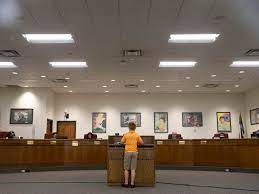 There are 3 positions on the school board up for grabs this election cycle, being the Battlefield, Berkeley, and Lee Hill districts.  These could swing the school board's overall opinion on crucial topics, like masks and COVID policy.
In the Battlefield District, the race is between Nicole Cole and Lawrence DiBella.  DiBella has been a Deputy and School Resource Officer for over a decade.  His main issues are restorative justice, mental health awareness, raising teacher pay, and helping schools recover from COVID.  Nicole Cole is a business owner whose platform centers around investment in children and making the school district's decisions more financially sound.
In Berkeley, the election is the same as it was in 2017; April Gillespie and Erin Grampp.  Grampp once again is the incumbent, as she has held the position since 2014.  Grampp's highlighted issues on her campaign website are keeping politicians from "ruining our schools," lobbying for funding and against unfunded mandates, re- moving a "one size fits all" model for education, continuing to grow Career and Technical Education, focusing on equality of opportunity, not of results, and helping students explore pathways explore career pathways.  April Gillespie's platform is making more money trickle down to students and classrooms, serving as a voice for parents, and getting more transparency and accountability in the schools.  She also says she has "No political agenda.  I work for the people."
The Lee Hill's candidates are Richard Lieberman and Lisa Phelps.  Lieberman is a veteran and small business owner, and is running to keep  politics out of school. He has come under fire recently for allegedly misogynistic and sexually suggestive comments made on Facebook, but has since apologized and condemned his posts.  Phelps' priorities are school safety, financial responsibility, and teacher and staff pay/ benefits.
Here are some of the candidates' websites:  
Lieberman: https://www.richforschoolboard.com/about-rich/ 
Phelps: https://phelps4schools.com/
Gillespie: https://gillespie4berkeley.my-free.website/
Grampp:https://www.facebook.com/ErinKGramppCandidateForSchoolBoardBerkeleyDistrict
Cole: https://www.nicolecole.com/
Leave a Comment