Nintendo Switch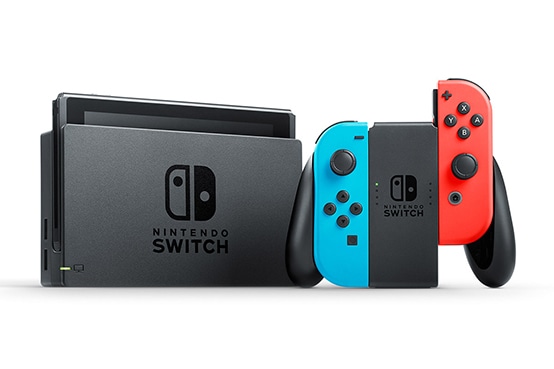 Nintendo came out with a new gaming system called the Nintendo Switch that was released on March 3, 2017.  The starting price for the Nintendo Switch is $299.99.  Included in the box is the console, which is a dock and tablet, a left and right Joy-Con, the Joy-Con grip, a Nintendo Switch AC adapter, and a HDMI cable.
The Joy-Con is a mix of a classic joystick and a controller.  There is a left and a right Joy-Con that can slide onto the side of the tablet to create the handheld mode.  You can get a pair of gray Joy-Cons or you can get one blue and one red.  There are many features on this new controller including gyroscope and accelerometer technology which allows you to move the controller that corresponds to the actions on the TV and rumbles with movement. This technology also allows independent left and right motion control.  On the right Joy-Con, there is an infrared motion camera, and on the left, a capture button that allows you to take a screenshot.  The Joy-Cons come with a grip they can slide into when not doing handheld or free mode.  This grip is similar to the pro controller, but more square in shape. The grip acts as a charging port and allows you to charge the Joy-Cons while you play.  Joy-Cons work together when vertical and separate when horizontal.  The Pro Controller is a standard gaming controller that does not come with the Nintendo Switch; it is an extra $70.
The system is designed primarily as a home console with a docking station for a tablet, which comes with the switch, that a person can take on the go.  There are three different modes you can play on with many different controller configurations: TV, handheld, and tabletop mode.  On the TV mode, the tablet sits in its dock, and the game is played on the TV.  The player can play with the Pro Controller, the Joy-Con grip and the Joy-Con free.  On the handheld mode, games can be played with Joy-Cons attached to the tablet, and on the tabletop mode they can play with the Pro controller, the Joy-Con grip or an individual Joy-Con controller.
The Nintendo Switch, when taken on the go, will have a battery life of roughly six hours, 32 GB of storage, and a 6.2 inch screen.  Old Nintendo games do not work on this new system.  Some new games include 1-2-Switch and Mariokart 8.  Most of the games made specifically for the Nintendo Switch will be $60.
Leave a Comment