BEAR Squad
"Pride manifest itself in a lot of ways with involvement in school spirit," states, assistant principal, Mr. Lutterbie. This school year, Riverbend started Bear Squads which will continue every Friday during Bear Block. There are 78 Bear Squads at Riverbend, and during these sessions, they will consist of videos and pride competitions. Bear Squads were created to get more students involved at Riverbend. Senior, Sondra Moore, expressed, "I am most excited about more school spirit." Through Bear Squads, students will be able to express how proud they are to be Bears.
There are many events planned for future Bear Squad meetings to help develop school pride. An example of this is the t-shirt contest that each squad will help to create. Each Squad will develop a class name as well as a design for their shirts to wear throughout the year. On Fridays, there will be bear wear competitions within your bear squad. The Bear Squad with the most people wearing "bear wear" will win donuts for their class. There are many other events that are to come such as, a color run planned for in October, artistic projects around the school, and a fundraiser in September. Senior, Ben Skinner, stated, " I am excited for all the fun activities we are doing."
In each Bear Squad there are squad leaders. Their job is to answer questions other students may have and to create a fun-filled environment. Leaders either signed up or were recommended by other teachers and administration. Leaders are so excited for Bear Squads such as, Sydney Livingston. She said, "I was influenced to be a leader because I enjoy helping others and finding ways to help them succeed."
Students are showing positive feedback, including Senior, Julia Cason who said, "My Bear Squad interacts super well." Senior, Sondra Moore, mentioned, "Many are confused but I think it will be fun in the long run." With the new addition of Bear Squad, students are excited for o see and hear what is in store this school year. Go Bears!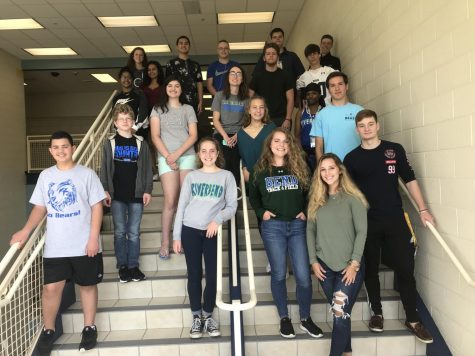 Leave a Comment