National DECA Month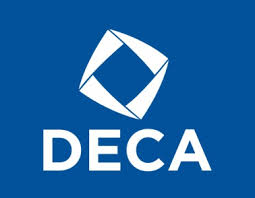 November was national DECA month, and Riverbend's DECA definitely celebrated it! The officers and advisors thoroughly planned out events and activities for the whole school to participate in.
DECA historians, Devin Osterman and Krissy Lynch, began the month with a Riverbend DECA Instagram page, posting a picture of unknown whereabouts somewhere in the school every Monday on the account. The first person to comment on the picture with the correct location received a "shout out" and a prize from Mr. Gardner.  The officers also hosted a celebrity look-alike contest during lunch one day, with a male, female, and honorable mention winner receiving prizes.
November 12th was National DECA day, and students received DECA points to their class grades if they wore DECA apparel. Several students wore their shirts from states last year, and several even made their own DECA t-shirts. Additionally, DECA members gathered on a Friday after school to watch the recent movie, Grownups 2. Over 50 boxes of pizza and dozens of desserts were consumed as students relaxed in blankets and hung out with their friends in the auxiliary gym.
DECA also launched Project Night-Night, a community outreach program that collected items for the local Hope House. These items and contributions greatly helped the Hope House, where women escape from domestic violence and difficult situations, and receive help and training to find new jobs.
All in all, DECA month was a huge success, with almost every marketing student receiving points towards their grades, while also helping the community and having fun!
Leave a Comment